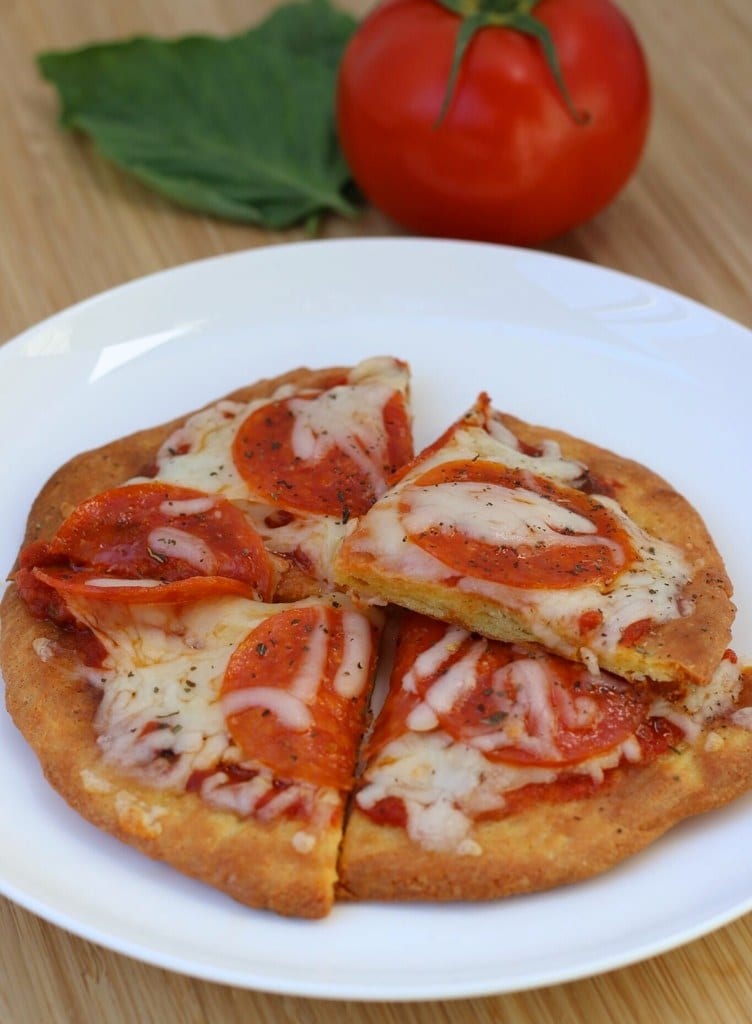 Crust
1⁄3 cup shredded mozzarella cheese
1⁄4 cup blanched almond flour
1⁄8 teaspoon garlic powder
Pinch of salt
1 large egg yolk
Toppings
1 1⁄2 tablespoons no-sugar- added pizza sauce
1⁄4 cup shredded mozzarella cheese
5 slices pepperoni (Or toppings of your choice)
1⁄4 teaspoon Italian seasoning
Note: Feel free to create your own pizza toppings or season the crust with different spices! Fresh basil also complements this recipe really nicely.
1. Place an oven rack in the top position. Preheat the oven to 425°F.
2. Make the crust: In a microwave-safe bowl, combine the mozzarella cheese, almond flour, garlic powder, and salt and stir until well blended. Microwave for 25 seconds.
3. Knead the dough with your hands for a few seconds. Add the egg yolk while the dough is still warm. Knead until combined and roll into a ball. Form a disk as if you were making a hamburger patty. Place the dough on a parchment-lined baking sheet and use your hands to press into a circle 5 to 6 inches in diameter and about 1⁄4 inch thick (or use a rolling pin). If the dough cools too much to form properly, place it back in the microwave for 10 seconds.
4. Use a fork to poke holes in several places throughout the crust before baking. Bake on the top rack for 8 to 10 minutes, until the crust is golden brown.
5. Remove the crust from the oven and flip it over. Top the flatter side with the pizza sauce and sprinkle with half of the cheese. Next, add the pepperoni slices, then sprinkle with the remaining cheese. Bake for another 3 to 4 minutes, until the cheese is melted.
6. Sprinkle the pizza with Italian seasoning before serving.
Per serving:
CALORIES: 479 | FAT: 39 g | PROTEIN: 25 g | TOTAL CARBS: 11 g | NET CARBS: 7.8 g
Words and picture from an original idea here
https://ketokarma.com/ketopizza/
For help with weight/measurement conversion see here
http://startcooking.com/measurement-and-conversion-charts
All the best Jan