British Nutrition Foundation conflicts of interest

graham64

Member




Status

:


Posts

: 3730


Join date

: 2014-08-10


Location

: Lancs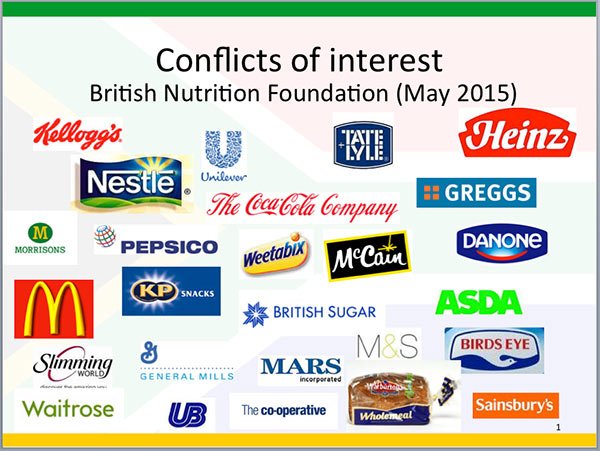 _________________
I'm a skinny T2 diagnosed 4/4/2008, a high calorie LCHF diet and one metformin a day A1c 6.2 and no complications.
Proving the LowCarb sceptics wrong for over ten years
Not all cherubs are Angels 
 nor all diabetics Bonkers 

chris c

Member




Status

:


Posts

: 4520


Join date

: 2015-07-26

I no longer eat ANYTHING listed there. How strange is that?

Eddie

Member




Status

:


Posts

: 3807


Join date

: 2014-08-13


Age

: 71


Location

: London

The BNF is a Black Ops outfit, there are many. Check out the paymasters, he who pays the piper names the tune. As always follow the money. So often it leads back to junk food and big pharma.

DUK The diabetes charity.

Abbott Bayer Boehringer Ingelheim Bristol Myers Squibb Bupa Bunzl Everyclick First Capital Connect Flora pro.activ Kodak Lilly Lloyds Pharmacy Menarini Merck Serono Morphy Richards Merck Sharp & Dohme Limited Novartis Novo Nordisk Nursing Times PAL Technologies Ltd Pfizer Rowlands Pharmacies Sanofi-aventis SplendaTakeda Tesco Diets

HEART UK -The Nation's Cholesterol Charity

Abbott Healthcare Alpro UK AstraZeneca BHR Pharma Cambridge Weight Plan Cereal Partners UK (Sh Wheat) Food & Drink Federation Fresenius Medical Care (UK) Limited Genzyme Therapeutics Hovis Kellogg's (Optivita) Kowa Pharmaceutical Europe Co Limited L.IN.C Medical Systems Limited Merck Sharpe & Dhome PlanMyFood Pfizer Premier Foods Progenika Biopharma s.a. Roche Products Limited Unilever (Flora) Welch's (Purple Grape Juice)

The British Nutrition Foundation

However, the organisation's 39 members, which contribute to its funding, include – beside the Government, the EU – Cadbury, Kellogg's, Northern Foods, McDonald's, PizzaExpress, the main supermarket chains except Tesco, and producer bodies such as the Potato Council. The chairman of its board of trustees, Paul Hebblethwaite, is also chairman of the Biscuit, Cake, Chocolate and Confectionery Trade Association.

The European Food Information Council

Current EUFIC members are: AB Sugar, Ajinomoto Sweeteners Europe, Bunge, Cargill, Cereal Partners, Coca-Cola, Danone, DSM Nutritional Products Europe Ltd., Ferrero, Kraft Foods, Mars, McDonald's, Nestlé, PepsiCo, Pfizer Animal Health, Südzucker, and Unilever.

The British Heart Foundation

Unilever Flora margarine.

_________________
Type two diabetic-low carb diet (50 carbs per day) and two 500mg Metformin pills per day. Apart from diagnosis HbA1c almost 12-all HbA1c results none diabetic. For over eight years my diabetes medication has not changed. My weight has remained stable, I have suffered no ill effects from my diet whatsoever. Every blood test has proved, I took the right road to my diabetic salvation. For almost seven years, I have asked medical professionals and naysayers, how do I maintain non diabetic BG levels on two Metformin other than low carb ? The silence has been deafening !