This is one of my fave vegetarian dishes and, because it's got a hefty amount of cheese, it's really filling too. Ignore the fact my presentation is appalling (I'll never make a food blogger), it tastes lovely!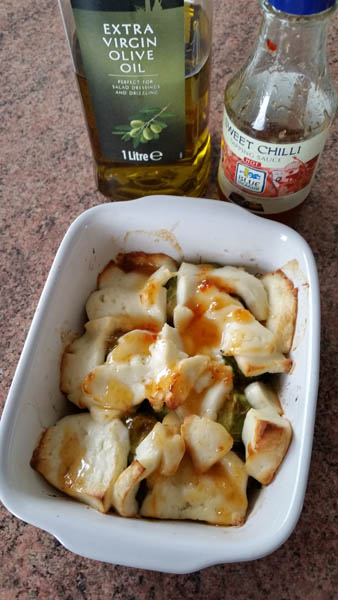 CARBS
Approx 20g, depending on your choice of brands etc.
INGREDIENTS (serves 1)
100-150g Halloumi
100g sprouts
10g sweet chilli sauce
1tbsp olive oil
1tbsp balsamic vinegar
You could add other things too such as mushrooms (I sometimes replace the sprouts with mushrooms if I need to reduce the carb count), chilli flakes, pine nuts or bacon. I've tried them all and they're all really tasty.
METHOD
1. Preheat oven to 170C (fan) or 190C (regular)
2. Toss sprouts in olive oil and balsamic vinegar
3. Roast in oven until slightly soft (about 15-20 mins)
4. Remove from oven and sprinkle chunks of halloumi over the top
5. Bake in oven until cheese is golden brown at the edges
6. Remove from oven and drizzle sweet chilli sauce over the top
Hubby loves this and he's not into vegetarian food normally; try it, you might like it (even if it won't win any prizes in the best looking food competition).