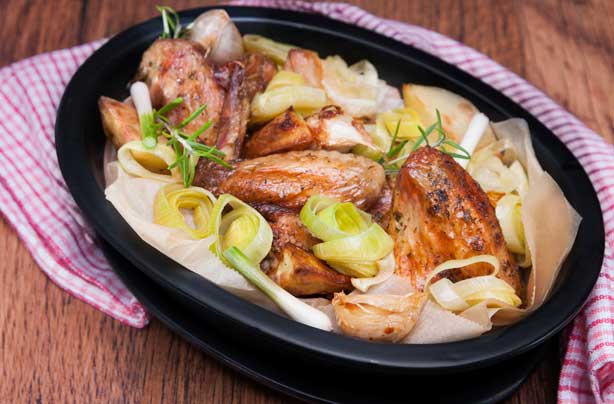 I posted this lovely recipe on the blog recently,
http://thelowcarbdiabetic.blogspot.co.uk/2015/09/chicken-wings-provencal.html
It is delicious, but obviously for us low carbers use swede and not potatoes, and amend the amount of ingredients to suit family needs.
"Full of Mediterranean flavour, this quick and easy supper/ dinner has everything cooked together in one dish. You'll need to buy large wings with plenty of flesh on them or use 8 small thigh portions instead. Herbes De Provence is a fragrant mix of dried herbs including rosemary, thyme, marjoram and oregano but if unavailable just used mixed dried herbs instead."
Ingredients:
Serves Four
(2 large baking potatoes, peeled and cut into small chunks)
For LCHF template please substitute potato with a swede instead, peeled and cut into small chunks
4tbsp olive oil
8 garlic cloves, unpeeled
800g large chicken wings
1tbsp dried Herbes De Provence
2 leeks, trimmed and sliced
4 spring onions, trimmed cut into lengths
150ml chicken stock *
Salt and freshly ground black pepper
Few sprigs fresh rosemary
* Why not add a splash of dry white wine and a spoonful of Dijon mustard to the chicken stock for extra flavour
Method:
1. Preheat the oven to 200°C/400°F/Gas Mark 6. Par-boil the (potatoes) swede in a pan of lightly salted boiling water for 5 mins. Drain well and place in a large roasting tin. Add the garlic cloves and drizzle over half the oil.
2. Place the chicken wings in the roasting tin and brush with the rest of the oil and sprinkle over the dried herbs. Roast for 30 mins.
3. Add the leeks and spring onions to the tin and pour over the stock. Season with salt and freshly ground black pepper and return the tin to the oven for a further 15-20 mins until the leeks are just tender and the chicken and (potatoes) swede are golden brown and cooked through. Serve garnished with fresh rosemary.
Enjoy  

All the best Jan